Puppy Patrol saves the world / PAW Patrol Rescue World – this app is for kids in which you need to know about the world and interact with the characters. Here, players will have to complete simple, but rather exciting tasks, helping brave puppies to cope with various difficulties.
Each of the characters has individual qualities and a special vehicle, be it a truck, helicopter or another. Explore the surroundings where you are bound to encounter various problems that need to be addressed. For example, repairing park benches, helping a girl find an escaped cat, and so on. For successfully completing mini-games, get bones, the collection of which unlocks additional game content. Heroes of the Paw Patrol are able to cope with any difficulties, well, you will definitely help them.
We also recommend paying attention to Puppy Town and Hero Rescue .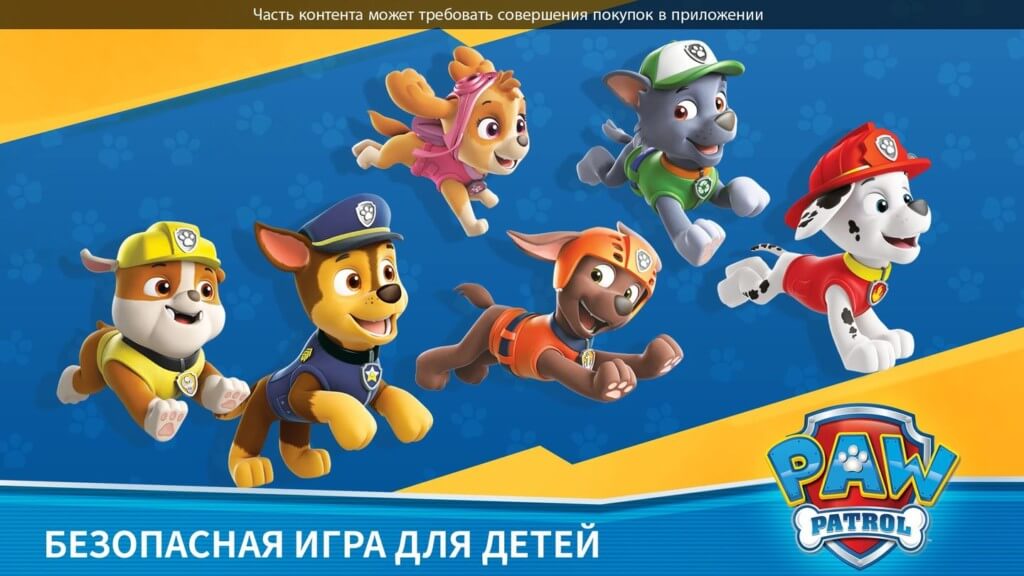 Favorite characters in the game Paw Patrol saves the world
If your child is crazy about PAW Patrol characters, then he will definitely like this game. Here kids will definitely find a friend. After all, each puppy has a bright character and special skills. In the app, you will get to know Ryder. He is a kind and smart boy who has put together a team. He wants to help everyone in trouble and is always ready for rescue operations.
Chase is a police puppy. The breed is a German shepherd. Chase wears a matching uniform, a cap and a badge collar. He always has a blue backpack with him, equipped with a flashlight, a megaphone and a cannon with a net. He is a very kind, funny and responsible puppy. Firefighter Puppy Marshall is the funniest member of the crew. Wears a red helmet and life jacket, and a backpack with medical supplies. Marshall is a tireless joker but often gets into trouble. Friends love him for his cheerful disposition and willingness to help.
Cocker Spaniel Skye is a fearless pilot and the first girl in the rescue team. Very funny, emotional and friendly puppy. Like a real girl, she adores everything pink. She also has a phenomenal memory. Each of the heroes has their own set of skills, as well as personal transport. In the future, the developers promise to add new characters.
Complete exciting tasks
PAW Patrol Rescue World offers users a range of interesting missions that anyone can handle. You will play as puppies under Ryder's guidance and do good deeds. Get behind the wheel of your car and go to the park, where you need to fix all the shops. Build birdhouses to give the birds a place to live. Bring chickens to the barn and help the farmers. All tasks are designed in such a way that they are easy enough to complete. Complete the game and get dice for successful missions. In the end, with the help of these bones you will be able to unlock additional content and various bonuses.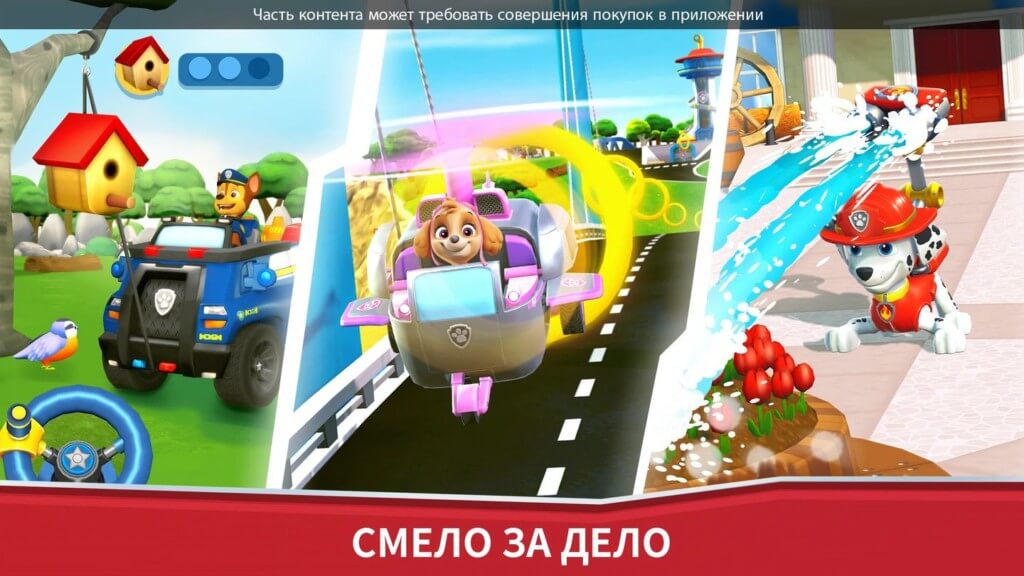 The friendliest gameplay
PAW Patrol Rescue World is aimed at children between the ages of three and six. There are no scary scenes or something scary for a child. In addition, the developers made the gameplay itself in such a style that it was as simple and understandable as possible for children. All tasks in the application are simple and the design is colorful. Management is extremely simplified and takes place in one action. You just need to touch the screen in a certain place and the character will move there. The project is a set of mini-games for small children that are completely safe.
Paw Patrol graphics and sound save the world
PAW Patrol Rescue World has very colorful 3D graphics that kids will surely love. Familiar heroes are already waiting for you! In addition, friendly music sounds during the passage, and Ryder prompts the players with voice prompts what exactly they need to do on each of the levels.
Explore Adventure Bay like never before in PAW Patrol™ Rescue World!
SAFE & EASY fun game play for kids from their favorite show! Whenever there's trouble, just yelp for help!
Fun games designed for boys & girls in Pre school & Kindergarten! No job is too big, no pup is too small!
PLAY WITH YOUR FAVORITE PUPS – The Pups are ready to go! Ride around Adventure Bay with Chase, Skye, Marshall, Zuma and Rocky (More pups added soon!). Each pup has a special skill and vehicle for all your rescue needs.
EXPLORE & PLAY – There's a ton of things to see and do all throughout Adventure Bay! You're free to explore. The more you play the game, the more things you'll unlock in each area!
HERO MISSIONS – PAW Patrol™ to the lookout! Choose the Pup that is best for your mission and help save the day.
RESCUE – Help the people of Adventure Bay and win fun rewards for your Pups.
PUP TREATS – Each mission you complete will earn a reward! Find hidden treats around town!
SAFE & KID FRIENDLY – Kids games designed for preschool, kindergarten, elementary school boys & girls. Educational, engaging and fun games for kids to explore from their favorite TV, YouTube Kids & Netflix show! Easy game play to learn, for young children and toddlers aged 3-6. Parents and other family members can play along too!
IN APP PURCHASES
Before you download this app, please note that it is free to try, but some options may only be available via in-app purchases. In-app purchases cost real money and are charged to your account. To disable or adjust the ability to make in-app purchases, change your device settings. This app may contain contextual advertising (including the option to watch ads for rewards) from Budge Studios regarding other apps we publish, from our partners and from third parties. Budge Studios does not permit behavioral advertising or retargeting in this app. The app may also contain social media links that are only accessible behind a parental gate.
PRIVACY & ADVERTISING
Budge Studios takes children's privacy seriously and ensures that its apps are compliant with privacy laws. This application has received the "ESRB Privacy Certified Kids' Privacy Seal". Read our privacy policy at: https://budgestudios.com/en/legal/privacy-policy/, or email our Data Protection Officer at: privacy@budgestudios.ca
END-USER LICENSE AGREEMENT
https://budgestudios.com/en/legal-embed/eula/
HAVE QUESTIONS?
We always welcome your questions, suggestions and comments. Contact us 24/7 at support@budgestudios.ca
©Spin Master Ltd. PAW PATROL™ and all related titles, logos, characters; and SPIN MASTER logo are trademarks of Spin Master Ltd. Used under license. Nickelodeon and all related titles and logos are trademarks of Viacom International Inc.
BUDGE and BUDGE STUDIOS are trademarks of Budge Studios Inc.
PAW Patrol Rescue World ©2021 Budge Studios Inc. All Rights Reserved.