House Flipper for Android is an interesting investment and construction simulator from the Polish studio Empyrean. The game was released by PlayWay, known for games such as Car Mechanic Simulator  and  911 Operator . You play as a businessman who buys apartments in need of renovation.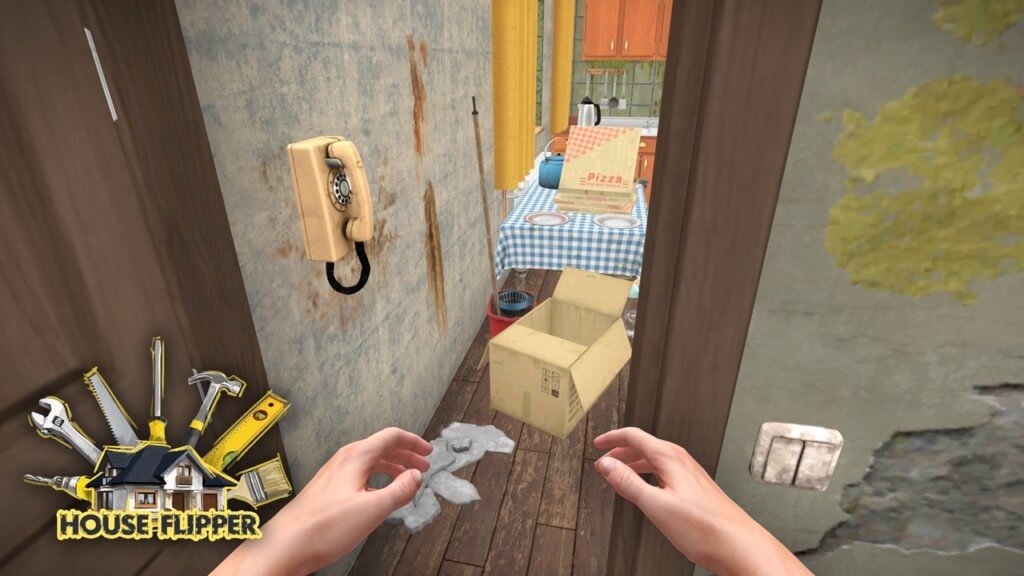 Mechanics of the game House Flipper for android
You play as an investor who buys houses in need of renovation. The problem with such real estate is that you never know what you can find inside and what challenges and surprises await you there. However, without risk, there is no gain and there will be no material gain.
After making a purchase, you need to restore the apartment to its best condition. To do this, you need, for example, to demolish unnecessary walls, get rid of pests or fix the wiring. You do this with a variety of tools, such as a hammer. However, the gameplay of  House Flipper  's involves more than just renovations. You also need to furnish the apartments, and for this you need to buy furniture and decorations and arrange them in the right places.
After all this, you have to take care of the mess, clean the windows and sell the property for a profit. This way you make money for additional investments and better tools.
To work you will need a variety of tools: hammers, drills, nails, screwdrivers and much more. But remember, you are more than just an employee. As an investor, you must be concerned about making money. , and the best way to do this is to buy the ruins, renovate them, and then sell them for a profit.
How do I get unlimited Flipcoins?
Open the game.

Tap the Cash icon at the top of the screen.

Select Exchange.

Exchange flipcoins for cash.
Have you ever dreamed about running your own renovation company? Now you can do it wherever you are with the mobile edition of the PC hit – the House Flipper simulation game – on your mobile device. House Flipper is the best free one-man makeover crew on the market. Become an interior & house designer and start your very own business. Carry out orders, renovate, decorate houses, and sell them with profit afterwards! Get new skins for your tools.
House Flipper: Home Design, Simulator Games features:
✔️ Awesome, realistic 3D graphics
✔️ Smooth intuitive and addictive gameplay (60 FPS gameplay)
✔️ Different interesting tasks
✔️ Buying, renovating, and selling 🏠 houses as well as interior decoration
✔️ Leveling up and upgrading tools
✔️ Over 500 adorable decoration and furniture (bed, nightstand, night table, chair, TV cabinet, commode, armchair, sofa and many more items to unlock)
And all of that is waiting for you in the mobile adaptation of the most liked simulation flipping game: House Flipper simulator. Fix & Flip. Become the most famous house flipper and interior house designer.
COMPLETE ORDERS
A great adventure awaits you in the House Flipper simulator – the world of renovations! Perform interesting orders that will make you feel like a real house flipper. Meet colorful characters such as Eleanor Moore and her artistically gifted animals (whose activities will be followed by cleaning). Renovate the art connoisseur's museum, Giuseppe Clavier, and help the squat residents renovate their ruined house. House Flipper, home design simulator offers you various locations equipped with characteristic items.
DECORATE INTERIORS
Become an interior & house designer and arrange interiors according to your own ideas, using available items and a wide range of paints. Most of the items available in the game have from several to over a dozen variants, which you will unlock as you progress in the game. Learn not only their purpose but also the story behind them (background). What does a cat have to do with haiku writing? Why are the Babylonian invaders buying souvenirs there? You will find answers to more strange questions in the descriptions of over 500 items available in the game. All this in realistic 3D graphics!
GAIN EXPERIENCE
As you progress in House Flipper simulator you'll level up and improve your tools. Advance to the next levels to complete the tasks (quests) faster. Why hurt your hands when you can have gloves made of hardened smurf leather? Using unlocked items, you can arrange the interior of your office according to your own design. It can be stylish, but also … A cat tree in the middle of the room? Why not? It's your idea after all! If you love playing simulation, house renovation, and home design games, you will fall in love with House Flipper renovation & decor game.
🏡 BUY, RENEW, DECOR, SELL
You can unlock new items, buy various, though not always beautiful houses with cash and Flipcoins acquired during orders. Renovate your new house and turn it into your office, or negotiate a convenient sale price at a real estate agency. It doesn't matter if you clean the Trash in M5 or polish the Crimson Corner. Each of them can become your haven on the path of developing your own career in the house flipping industry or a source of additional profit.