Farming Simulator 18 for Android is another part of the popular Farming Simulator series, developed by GIANTS Software. Unlike Farming Simulator 17, this part of the series is released for handheld devices only.
Mechanics of the game Farming Simulator 18 for android
From the point of view of game mechanics, the hero of our review resembles the previous mobile part of the series:  Farming Simulator 16  2015. In the game, players manage their farms in an attempt to make it a lucrative business. To achieve this, players need to take care of several things, such as growing a variety of plants, from potatoes to turnips. In order for the crop to be plentiful, you must first process the soil by cultivating it with a ripper. The plants must then be planted and the farmer must take good care of them while they are growing. After that, you can be proud of the results and sell goods to invest and develop the farm.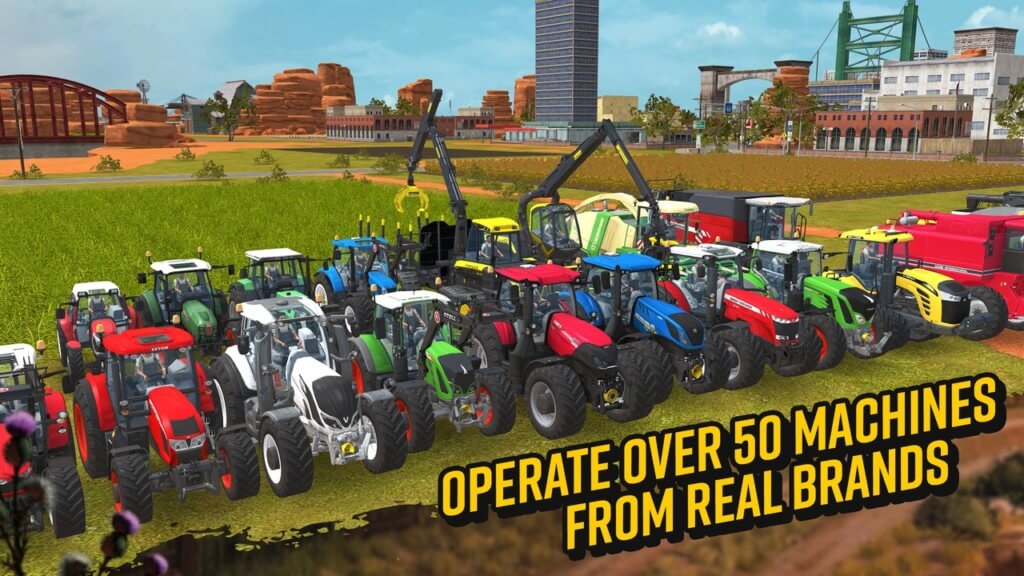 The Farming Simulator 18 version is not devoid of the characteristic features of the series, namely a wide range of licensed agricultural equipment. In total, the developers have prepared more than 50 vehicles from the world's leading brands, including Challenger, Fendt, Massey, Ferguson and Valtra.
Become a modern farmer in Farming Simulator 18! Immerse yourself in a huge open world and harvest many types of crops, take care of your livestock – cows, sheep, and pigs – take part in forestry, and sell your products on a dynamic market to expand your farm!
You have access to a huge selection of over 50 farming vehicles and machines, faithfully recreated from over 30 of the biggest names in the industry, including AGCO's most respected brands: Challenger, Fendt, Massey Ferguson and Valtra. Drive and use brand new equipment and harvest sugar beet, potatoes, wheat, canola, corn, and for the first time sunflowers.
With a deep and powerful simulation experience, a vast open world and a wide fleet of vehicles including brand new machines, Farming Simulator 18 invites you aboard the most complete handheld farming simulation ever created!
Features of Farming Simulator 18 include:
• Use realistic tractors and trucks from some of the biggest agriculture machine makers
• Plant and harvest six different crops: Wheat, canola, corn, sugar beet, potatoes and sunflower
• Breed pigs and sell them for profit
• Feed your cows and sheep to produce and sell milk and wool
• New front loader attachments expand your options when transporting bales or wood
• Manage AI helpers for better results or let them drive your vehicles to a destination of your choice
• New 3D graphics show even more detail on your machinery and the southern US environment
• Harvest wood with dedicated machinery and sell the timber
• Play with friends in local multiplayer mode for WiFi and Bluetooth