Epic Brawl Download For Android
Build army, destroy enemy castles and lead your hero to the victory
| | |
| --- | --- |
| Name | Epic Brawl |
| Publisher | AppOn Innovate |
| Genre | Action |
| Size | Varies with device |
| Version | Varies with device |
| Update | Feb 9, 2022 |
| Content Rating | Rated for 3+ |
Install
epic brawl
If you are looking for interesting strategies, then download Brawl Stars and Auto Brawl Chess as well .
Epic Brawl – Exciting Campaign and Exciting Multiplayer
Each user has a choice: play in a single project or go into a multiplayer battle.
There are over 300 missions in the single player campaign. The essence of all is about the same. You must defeat insidious enemies who bring down waves of enemy units on you and also destroy their towers. To replenish the troops, the hero has ten units of energy, as well as a strip with units and special skills. Each warrior needs a certain amount of energy. She will gradually recover. You just have to go forward and destroy everything in your path.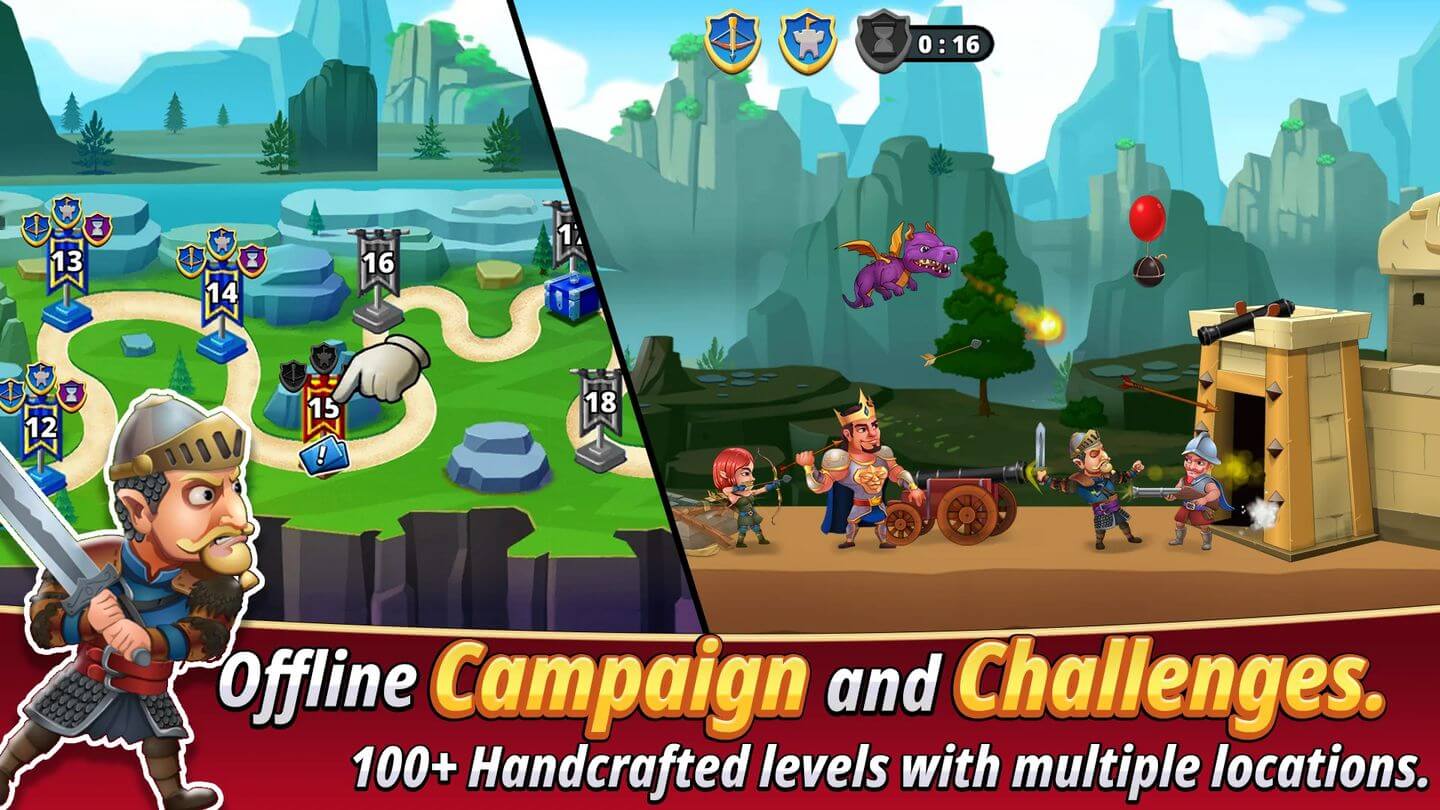 The multiplayer battle of Epic Brawl behaves a little differently, although the meaning is the same. You need to defeat the enemy base before he destroys yours. How you do it is up to you, but remember that the amount of energy is limited, and the enemy is constantly advancing.
Build the perfect battle deck
Epic Brawl is a card project. All fighters here are presented in the form of cards. Each has its own cost in units of energy. Only units that you have unlocked or purchased are available for your list. They will then appear randomly in combat. The same applies to special skills. For example, you can use a hail of arrows for three units of energy and cover the enemy tower with a blow. Therefore, it is extremely important to choose the right fighters, having collected both melee units and archers in the deck. Don't forget the mages.
Upgrade your units and hero in Epic Brawl
Another important part of Epic Brawl is upgrading your characters. You will receive a variety of chests after each successful battle. They can contain coins, new units, and improvements to existing ones. For example, you can get +3 for your archers. This means that they will increase three levels at once and become stronger and more ranged. You can also upgrade skills, making them more destructive and massive.
Special mention deserves the main character, who can not only be improved, but also dressed. Choose for him the best equipment that will increase the performance of the main character, as well as increase the amount of his vitality.
Fast-paced defensive offensive game made for mobile! Control the Hero as well the army and allies. It's a unique real-time multiplayer battle game with tons of royale characters to choose from.
Collect and upgrade dozens of cards featuring the amazing royale troops, spells and defences. Knock the enemy King, enemy tower and its allies to defeat your opponents and win trophies, crowns and glory in the Arena.
Take part in an Epic Brawl saga alongside your in-game champion and clash with players all around the world in epic pvp battles and build your army, charge your attack and march them into the battlefield to total conquest!
Experience our offline campaign with hand crafted levels. Build your empire and conquer enemy castle in a fantasy brawl while defending your fortress and lead your heroes to victory and eternal glory!
Let the war begin and lead your army to victory and conquest!
Game Offers three modes:
1. Online Battle: Gear up your Hero and clash players online in a real-time pvp brawl from all around the world. Build your own strategy and alliance and bestow vengeance upon millions of real users in a heroic conquest on the battlefield and become the invincible to attain a top spot on our global leaderboards alongside with other mobile legends worldwide!
2. Offline Campaign: Take part in a kingdom tales of epic fantasy brawl saga. Break enemy tower defense, unleash multiple tactics and strategy and command your army to seize the enemy kingdom in a heroic fashion and become the lords of the braveland in 100+ levels to explore in your own hero conquest!
3. Play with Friends: Challenge your friends to an online 1v1 pvp royal revolt brawl in a private arena on a friendly island and maintain friendly leaderboards amongst the clan. Invite your friends, build a clan, forge an alliance and become a legion.
Game Features:
• Clash with mightiest players all around the world in epic 1v1 royal revolt brawl and claim your glory!
• Control your Hero around the battlefield, attacking your opponent's forces and castle and make their tower defense go Boom, while defending against theirs.
• Build your own army by Collecting new and powerful troops & spells.
• Master various battle tactics & strategy in order to become a legendary Warrior at the top of your league.
• Dive deep into our adventurous fantasy single-player campaign and brawl your way through 100+ royale handcrafted levels to claim your throne. Crush enemy frontiers in your path to kingdom rush and expand your Empire!
• Objective based real-time strategy combat that challenges your skill in tower defense and brawling!
• Vibrant art style, with beautiful animations and 50+ unique legends such as dwarfs, zombies, wizards, brawler, warriors, samurai and dragons! Let the army games commence!
• Earn royale chests to unlock new and exciting legendary rewards and upgrades for your heroes and weapons and reach to the stars!
• Challenge your friends to a private arena clash in a 1v1 pvp royal revolt.
• Play and chat in real-time.
• Collect cards to unlock and evolve your troops, allowing them to gain powerful and unique abilities!
• Fun and easy to learn mechanics.
Earn trophies and climb the global ranking! Brawl with opponents online in epic clash and defend your Castle! Open chests with multiple rarities to discover and unlock new and powerful warriors, legends and spells to crush your enemies! Will you get one of the legendary cards? Define your strategy, choose your warriors to command them to the battlefield and unleash the chaos. Whether it may be Archers to sabotage opponents tower defense from behind or angry giants to break their front lines or you could cast a spell and shower them with deadly arrows from sky to clear out the hordes of enemy troops.
Control your hero and command your army in order to become an emperor and unleash mayhem on the global battlefield and fight your way to claim Glory and reach to the Stars!
Epic Brawl Download For Android
Install (Varies with device)