After a long wait, the Karakin map appeared in PUBG Mobile… This is the smallest card currently available. Karakin is great for increasing your indicator of CD… A small map measuring 2 x 2 km is almost half the size of Sanuk. Maximum capacity is 64 players. In this article, we're going to share the top five drop and loot spots on Karakin in PUBG Mobile.
5 best places to drop and loot on Karakin
Bashara
Located on the left side of the map, Bashara is one of the best places to replenish your ammo and armor. Due to the high density of buildings, the percentage of loot is quite high here. One or two full squads can easily get enough items in that city. You can patch up large warehouses, two-story buildings, etc. If the city is not far from the airplane departure, you can also expect a large number of players to decide to land here. Always head to higher ground in Bashara for added value.
Hadiqa Nemo
According to our observations, Hadiqa Nemo is the most popular location among the players on Karakin. Located in the lower right corner or on the east side of the map, this location is great for looting and early fights. Hadiqa Nemo is also great for passive players in the middle of the game. Although there are fewer buildings here, the amount of loot here is enough for the whole team. But, as we already said, due to its popularity, players can expect a large number of enemies here, which will appeal to those who like jumping directly into hot places. Don't forget to use sticky bombs to open up additional escape routes for yourself, or vice versa, when attacking an opponent.
Bahr sahir
Bahr Sahir is a port town in the northwestern part of Karakin with many small one-story buildings. In them, you can easily equip your team with everything you need to conduct battles until the end of the match. In addition, sticky bombs can be used to visit small bunkers and obscure underground storage facilities. But keep in mind that this dungeon has only one entrance and you can get ambushed.
Al Habar
It is the largest city on Karakin. Located in the upper right corner of the map, this city is a kind of tourist destination with many high-rise hotels and apartments. The size of the city and the quality of the loot attract many players. Here, they can easily divide the terrain and collect supplies for up to 3 teams. The winner is the one who collects the necessary equipment earlier and occupies a high point in order to get a better view.
Cargo Ship
Like the docks on Sanuk, the Cargo Ship is a large abandoned ship stuck in the southwest corner of Karakin. This place is filled with quality loot, and it probably won't be enough for more than one team. If there are not enough items on the ship itself, you can always look at the neighboring houses, which, sometimes, are not inferior in quality of loot to it. The Cargo Ship also attracts a lot of players. And if you see that you are not falling alone, then it is better to first land on the nearest houses, since the enemy will have to get out of the ship in your direction and you will get an advantage.
---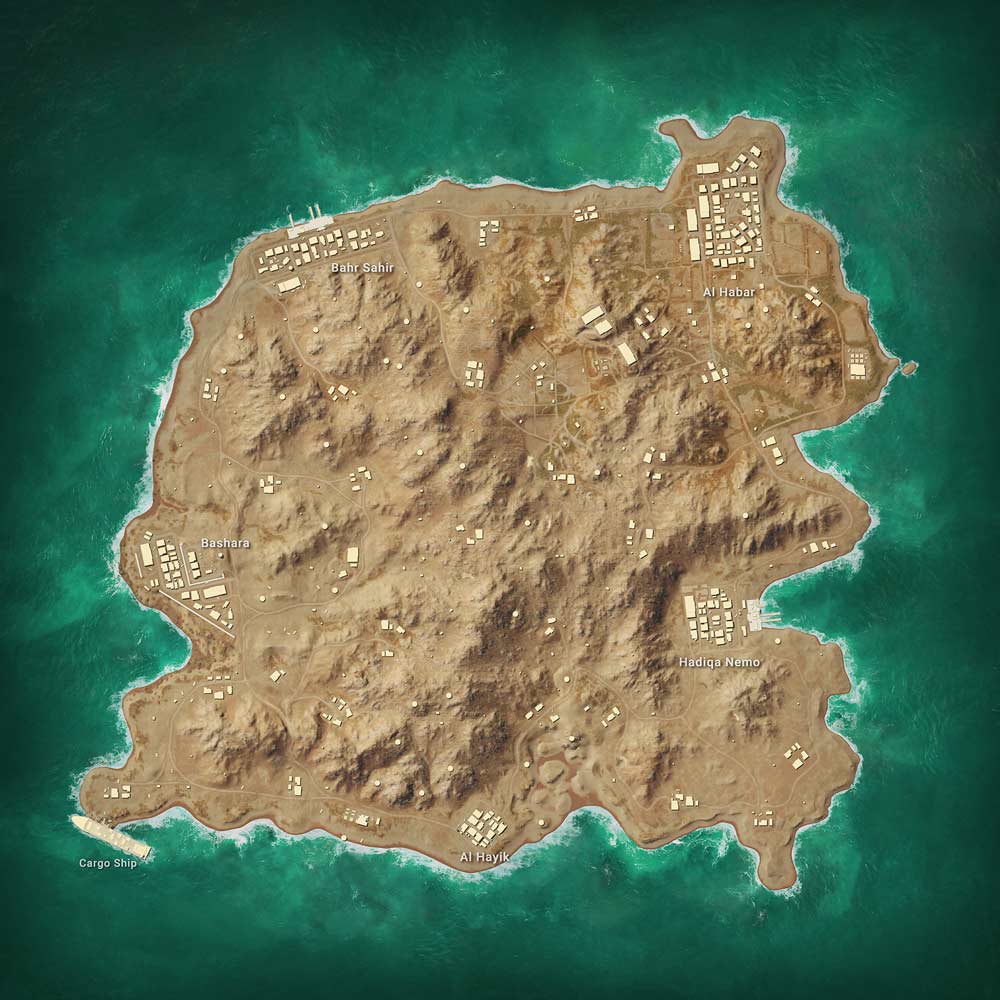 In general, in our opinion, Karakin turned out to be a very good map for PUBG Mobile. This is the perfect map for those who like a relaxed gameplay based on tactical movement. As you can see on the map, all the main starting locations are located at the edges. Then, in most cases, everyone moves towards the center. A huge number of hills, stones and other kinds of shelters help to move in relative safety and make it possible to always find cover during shelling.
To play PUBG, it is important to have a tactical mindset. And you can develop it by playing, for example, chess. Online e2-e4. there you can find both live rivals and try your hand at the bot.